Browsing all articles tagged with hertfordshire
Hertfordshire is getting a bit of a habit of producing excellent bands. First Enter Shikari appear out of St. Albans, then The Subways out of Welwyn Garden City. Now, it looks like the musical county is at it again, with Welwyn Garden City based metallers Thousand Autumns cooking up a big storm. Their latest EP, entitled Chasing Boatsis out now for the public to get hold of, and it looks set to be a huge release for the band. 
Chasing Boats kicks off as it apparently means to go on. And to use exactly the right word, it kicks off hard. It's a hefty-yet-melodic sounding EP, chock full of almost metal-core type sounds with throaty screams and overdriven guitars everywhere. There's some really great sounding instruments, heavy, thumping basslines, uplifting, sing-along choruses and riffs that actually have the ability to really strongly remind a listener of now broken-up metallers Disturbed on the one hand, but with faster, more full-sounding choruses and more meaningful song construction. In other words, by the time the listener gets to the end, with the endless chants of 'I'm chasing boats!' they feel as if they've come a long way from the opener, despite the EP only being short. And that takes real production talent.
There aren't really that many problems with this record, either. The vocals could use a small amount of work, because the clean singing voice sometimes comes across as a little bit thin, and it has a slight tendency to sit in the background of the music, underneath the guitars as if they're not meant to be in the foreground. Apart from anything else, though, that's a slight production hitch that has absolutely nothing to do with the music itself, and therefore it shouldn't be assumed that this is a musical issue. It isn't.
So overall, Chasing Boats is a successful, heavy and yet melodic EP that's sure to be popular. Hertfordshire seems to have pulled it off again, producing a metal band of the highest quality and with the highest prospects. Keep a close eye on these guys, there could be another Enter Shikari in the pipeline.
Rating: 8/10
Read the original article here: http://planetmosh.com/thousand-autumns-chasing-boats/
Unsigned pop-rock quartet The City Divided, hailing from the county of Hertfordshire, last month released their debut EP The Endless Moment under their own steam. Hertfordshire is a county that is rapidly becoming famous for producing rock bands, the most prominent being Enter Shikari, and then also The Subways and more recently indie rockers The Electric Modern. The City Divided are the latest act to come out of the county, with catchy, sing along choruses, epic build-ups and smooth, mellow interludes on this, their debut EP.
It's quite hard to class this release, actually. It's not pure rock, it's not pure metal, it's not pure pop, either. The closest that a listener can come to classing it is 'pop-metal', but there's masses of eighties style power metal in there (especially on Higher Ground) that makes even that quite tenuous at best. What it is, though, is catchy. It's a very varied release in terms of sound and style.
It's a well structured release. The opener Laughing is very tone setting, very catchy and really sets up the rest of the release. Higher Ground is more of a meaty and in some ways comedic song, with obvious influences from other genres and even other decades. Watching the World Burn slows down the EP considerably and is a much more emotional song which really displays the singing abilities and the vocal range. The final song Waiting at the Gates is all about the build up to an epic finish, and is therefore a very fitting end to an epic EP.
Limitations – as a whole EP, it's a bit short, and the inclusion of now released single Blue wouldn't have gone amiss either. Plus, the heavier sounds, pinch harmonics and Killswitch Engage-esque chugging sounds, as well as the odd inclusions of tight vocal screams might not be to everyone's taste, if they're looking for a catchy pop-band. Otherwise, it's a very impressive release.  
Overall, The City Divided have provided an impressive and soon-to-be successful release, and it will surely help them to be noticed in the very near future. They're definitely another band from Hertfordshire to keep an eye on. 8/10.
Find out more about The City Divided at their website, here: http://www.thecitydivided.com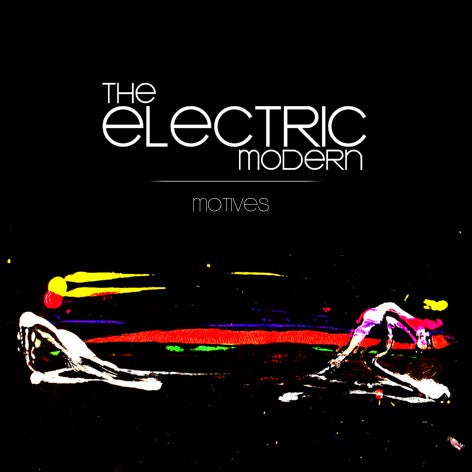 Hertfordshire based indie rock quartet The Electric Modern, return with the follow up to their debut self titled album of last year with an EP entitled Motives. Formed in 2008, the band claim that this EP reflects a new found focus and a renewed love of writing catchy indie music, music that's anthemic and inspirational.
At first listen, Motives is a refreshing rebrand to the indie scene. It has an excellent trait of sounding extremely familiar and yet sounding really new and fresh at the same time. It's a light and fresh sounding release, with melodic and emotive sounding and excellently sung vocals and sing-along, chants and choruses that can really get a listener to smile. It's in some places almost a curious fusion of some 1980s electronica with 2000s indie rock, especially with the presence of uplifting background synth sounds on Let's Get Away.
Musically, it's what some might call simple and refined. It's a well written album, the band obviously have bags of songwriting talent and know what to include and what to cut in order to make the structure of the music work for the genre really well.
The listener gets the impression that no instrument has been wasted and every note is exactly what the song needed. There is no sense that The Electric Modern have gone over-the-top and put everything they're capable of into every song, but only included what each song needs to sound good. As a result, everything sounds well put together, and sounds quite light and airy. The effects on the guitars and the presence of prominent bass guitar sounds come together to create something that's almost halfway between indie-rock and electronic-rock.
It's an excellent sounding, fresh take on the indie genre. The bass solo on Too Much to Ignore is also an excellent and surprising feature, it was wholly unexpected, and it added an excellent twist to the song and deserves a special mention.
Motives won't be to everyone's tastes, though. It can sound a little like pop music in some places, which won't appeal to everyone, but will certainly appeal to others. This reviewer is nitpicking for the sake of putting forward a balanced review, though, and it's really not an issue.
Overall, it's a new and refreshing sound to come out of the South of England, a county that's making a name for itself for producing some high profile bands, such as Enter Shikari and The Subways. The Electric Modern is a fitting name for such an electronic sounding, modern take on the indie genre that was starting to get quite tired. Armed with more music like this, The Electric Modern should be set to be the name on everyone's lips in the not-too-distant future. Keep an eye on these guys. 8/10.
Find out more about The Electric Modern here: www.theelectricmodern.com
Recent Posts
Archives
Categories
Tags
Latest Tweets
Sam's Tweets