Browsing all articles in Other
On the back of their latest single release, Don't You Think So? Sheffield indie rock band Kartica have been busy. I caught up with them recently to find out how things have been going since the release. Read the interview below. 
1. You've been recently described as "solid Sheffield indie-rock." How far do you agree, or is there more to it?
Well from what I can tell, that was probably a comment that was generated on the back of maybe one listen of a very old demo. I don't see it as a bad thing necessarily, but I'd like to think we're a tad more exciting, uplifting and perhaps inspirational than just "solid". Also, when I see "rock", I instantly think of heavy stuff and we certainly couldn't be classed as that, but maybe that's just me!
2. Would you describe yourselves as the beginning of a much needed big comeback for British indie-rock?
That would be nice! In all seriousness, the type of music we play has a huge audience out there as it always has done, and always will. Therefore, it's just about us getting out there to as many people as possible and seeing where it goes. I honestly think that the music loving people are waiting for a band like us. We don't play this style of music for that reason though – it wasn't a conscious decision, more natural (influences, favourite bands etc) as it probably is with every single band in the world…or at least should be!
3. What was it like for you guys to play with artists like The Twang, The South and The Complete Stone Roses?
It was terrific. At gigs like that, it feels like everything is "up a notch" if that makes sense, in terms of how the day is organised, the sound checks, the equipment…the rider!
It was great to be asked to do it in the first place, and none of the gigs were as a result of "knowing somebody" as is so often the case. Also, it gives us a chance to play to a bigger crowd and hopefully gain new fans, which I think we did at each. The bigger stages are also a bonus, particularly when it comes to Hook's swaggering vicinity.
4. What do you guys get up to when you want to unwind and spend time away from the music? Anything interesting?
Nothing out of the ordinary to be honest! We're all into our sports and spend probably too much time (and definitely too much money) supporting our preferred football teams. We don't all support the same one though, which can at least keep the practices lively! Being in a band – and wanting to be successful – tends to take up a lot of what would otherwise be free time.
5. What's next after "Don't You Think So?" Can we expect to be seeing more from you soon?
Yes. First and foremost, as I alluded to before, we want to get this song out to as many people as possible and that obviously takes time. Later on in the year though, we will be looking to release and it least one more single and accompanying video. We're sat on quite a few new, recorded songs at the moment so it's a case of selecting which one to get out there next, and hoping the momentum continues! Aside from that, we will be looking to gig plenty, and are in the process of organising a big gig in Sheffield. We've done a few big ones before and have had some fantastic nights, so there's quite a bit to live up to but, as ever, we're pretty confident!
US based singer-songwriter Alex Kelly releases her first full length studio album, Orange Circle this month. I caught up with her recently to find out how things are going and what her plans are for the future. Read the interview below.
Interview
Orange Circle is your first full length studio album, since going solo. Excited?
Yes! It's a wild ride.
2. Has the road to Orange Circle's release been a smooth one, or has it been tough?
It's been a bit of both. Even at times of extreme frustration, I enjoy finding the answers, I enjoy my process.
3. Who are your main influences? How far can they be heard on Orange Circle?
During vocal practices, I sing songs from my real book. I purposely made references to that music when it came to the vocal styling of Orange Circle. You can really hear it in Splendor Solis.
4. What's your creative source? Where do you get your inspiration from?
I find inspiration mostly in nature. There is an underlying intelligence in nature that keeps me in a state of wonder. Sometimes I just listen to birds sing, sometimes I stare at trees.
5. Can we expect to be seeing you in Europe any time soon?
I certainly hope so. With any luck we will be there by the end of the year (hint hint).
6. Any other outlets than music?
Many.  Too many. I like to cook, hula-hoop, write poetry, and grow watermelons (just to name a few things).
7. What's next? Any plans for after the release?
We want to do a tour in Europe, so we're keeping our fingers crossed. We have a few music videos in the works and of course, more shows in NYC. Check out calendar at alexkellymusic.com for future dates.
Newbie electronica artist Volenté releases her debut single, Hollow on April 30th 2012. Fusing R'n'B, dance, dubstep and electronica, it has a unique sound that will definitely grab a listener with its powerful, pulsating bassline and chilling electronica noises, which will leave one singing it in their head hours after it's over.
It's an uplifting yet oddly pressing release, full of haunting mystery and catchy infusions of synthesised noises that blend well with the thud of the bass drums and bass guitars.
When she isn't spending her time being a full-time mum, Volenté is an extremely talented artist, with many many years of experience within the music industry. This single is a curious fusion of electronica and R 'n' B, with the heavy element of dubstep thrown in for good measure. It's received good reviews from critics and listeners alike, and has been compared to the likes of Bjork or Kate Bush.
Hollow is a breath of fresh air for those who want to get past the mainstream electronic R'n'B genre of recent times and listen to something a little bit different.
It's a powerful, anthemic release that's soon to shoot the starlet to a high level of fame. This reviewer says, watch out for her, she'll be back on the scene soon.
Welsh rockers Lostprophets return with the follow up to their 2010 album The Betrayed with their latest offering, the aggressively, politically titled studio album Weapons. It's been a turbulent few years for the band since Liberation Transmission, with the departure of drummer Ilan Rubin in favour of band Nine Inch Nails in 2009 and the subsequent delay of the release of The Betrayed, it's good to see Lostprophets back on the scene.
From football crowd-esque chants to quick raps, this is another album meant to hit the young generation with an intense political message, not unlike that of bands such as Rise Against. Lostprophets are no stranger to writing music like this, and it's earned them some bad press over the years, occasionally accused of being a band aimed at young teenagers, fans who are slightly older than children. But, in this reviewers opinion, this is an unfair accusation.  This is an act that has done a huge amount of maturation since 2000's Thefakesoundofprogress. Gone are the slightly childish song names (examples: We Are Godzilla, You Are Japan and Shinobi vs. Dragon Ninja) and, if this album is anything to go by, they've matured extremely well.
There's a slightly heavier sound on this album than we're used to from Lostprophets, echoing back to some of Start Something in 2004, but without the punk feeling to it. It's refreshing from the Welshmen, yet somehow it remains extremely 'Lostprophets'. That is to say, it's immediately recognisable as them, even though it does sound quite different. The band has experimented a lot more with this release than others; raps, chants, distorted bass guitar and synths, it's more progressive and shows more thought than before. The rap actually reminds of a sped-up form of Gorillaz. This new policy of experimentation works, too, it's an album that doesn't get boring as it progresses and leaves a listener wanting more.
There are, as, always, a couple of improvements that could be made though. Some of the songs get a little repetitive, and the political message, while still very relevant in today's society, could have been slightly more obvious if that was the main ambition of the album. Compared to other politico-punk releases (Rise Against's Endgame is a good example of this) it doesn't come across as political music, but rock music with a slight political twist. This is slightly nit-picky though, it's a great release from the rockers.
So, it's one of Lostprophets' best efforts in years. It's good to see them back on form and trying out new styles. It sounds like the band enjoyed writing and playing their songs, and in the end that's the point. Hopefully this will signify the end of the turbulent years for the band and we'll be seeing more from them in the near future. When it comes to rating this release, this reviewer gives it a good solid 9/10.  
Unsigned pop-rock quartet The City Divided, hailing from the county of Hertfordshire, last month released their debut EP The Endless Moment under their own steam. Hertfordshire is a county that is rapidly becoming famous for producing rock bands, the most prominent being Enter Shikari, and then also The Subways and more recently indie rockers The Electric Modern. The City Divided are the latest act to come out of the county, with catchy, sing along choruses, epic build-ups and smooth, mellow interludes on this, their debut EP.
It's quite hard to class this release, actually. It's not pure rock, it's not pure metal, it's not pure pop, either. The closest that a listener can come to classing it is 'pop-metal', but there's masses of eighties style power metal in there (especially on Higher Ground) that makes even that quite tenuous at best. What it is, though, is catchy. It's a very varied release in terms of sound and style.
It's a well structured release. The opener Laughing is very tone setting, very catchy and really sets up the rest of the release. Higher Ground is more of a meaty and in some ways comedic song, with obvious influences from other genres and even other decades. Watching the World Burn slows down the EP considerably and is a much more emotional song which really displays the singing abilities and the vocal range. The final song Waiting at the Gates is all about the build up to an epic finish, and is therefore a very fitting end to an epic EP.
Limitations – as a whole EP, it's a bit short, and the inclusion of now released single Blue wouldn't have gone amiss either. Plus, the heavier sounds, pinch harmonics and Killswitch Engage-esque chugging sounds, as well as the odd inclusions of tight vocal screams might not be to everyone's taste, if they're looking for a catchy pop-band. Otherwise, it's a very impressive release.  
Overall, The City Divided have provided an impressive and soon-to-be successful release, and it will surely help them to be noticed in the very near future. They're definitely another band from Hertfordshire to keep an eye on. 8/10.
Find out more about The City Divided at their website, here: http://www.thecitydivided.com
Birmingham indie rockers Since Monroe burst onto the scene a year after their formation with their debut EP, Lost Generation, a great release with plenty of catchy, rock hooks and a carefree attitude that's sure to get plenty of people sitting up and taking notice. Formed in March 2011, Since Monroe have gone from formation to acclamation in an impressively short space of time. Lost Generation is released to the public on March 26th 2012.
As an EP, it has plenty of variety and changes in sound between songs, and plenty of energy that's sure to get fans rocking along. It's a very good release, especially considering that it went from concept to fully recorded reality in the space of a year. It's an ambitious and rock-orientated release that has the potential to bring the fans back into the more rocky aspects of the indie genre, which has become increasingly stagnated in the last few years. It's a breath of fresh air into the genre that's sure to get the band success.
It's produced extremely well. Musically, the vocals fit over the music style perfectly, and the sounds of the instruments begin as they mean to go on, plunging the listener from the first notes of DJ into hefty, dirty sounding guitar riffs and, over the top, the uplifting almost shouted-yet-somehow-sung vocals add relief from the instrumental onslaught. The bass sounds growly and hefty and adds excellent depth to the songs. Completely, with all the aspects together, it sounds like very carefree rock n' roll, music for the sake of making very fun music, and gets the head bopping up and down appreciatively from the offset. The album then slows down slightly, giving the listener more to think about and more proverbial 'meat' to sink their listening-teeth into. Lost Generation is a complete triumph of a song, and the cheeky claps on Satellites bring a smile to the face.
Limitations – it might get a bit repetitive as time goes on. Whilst DJ  plunges the listener straight into Since Monroe's style at the deep end, it does tend to then only have the options of either carrying on with the audio-onslaught, which gets a tad tedious after a while, or slowing down and becoming less interesting, and Since Monroe seem to have opted for both when putting this album together. Whilst the rest of the songs on the EP are very good, they don't change from the first one nearly enough and yet also get slower at the same time, which can make listening to it a bit 'samey'. The technique of starting quickly at-the-deep-end would work better with a full length album, because there would be more opportunity to chop and change sounds, slow down and speed up again, but with a short EP this doesn't work as effectively. The best suggestion here is just to change the order of the songs to make it more of a wild ride for the listener.
On the other hand, the other songs definitely show the band's maturity. They're all very well written, performed, recorded, mixed and produced. Since Monroe are packed full of songwriting talent and this album definitely has the potential to herald in a new generation of indie-rock, one that's sure to take the music industry by storm. They're definitely a band to watch out for, and a sound that's certain to become trademark. Excellent. 7.5/10.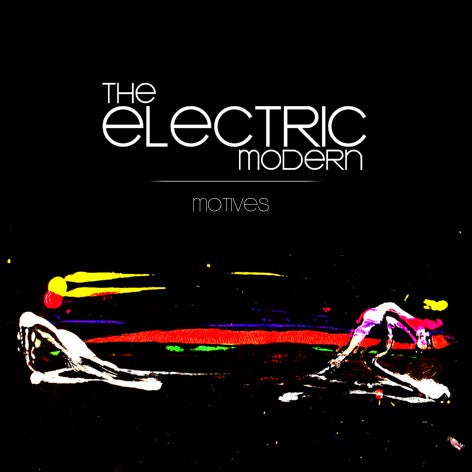 Hertfordshire based indie rock quartet The Electric Modern, return with the follow up to their debut self titled album of last year with an EP entitled Motives. Formed in 2008, the band claim that this EP reflects a new found focus and a renewed love of writing catchy indie music, music that's anthemic and inspirational.
At first listen, Motives is a refreshing rebrand to the indie scene. It has an excellent trait of sounding extremely familiar and yet sounding really new and fresh at the same time. It's a light and fresh sounding release, with melodic and emotive sounding and excellently sung vocals and sing-along, chants and choruses that can really get a listener to smile. It's in some places almost a curious fusion of some 1980s electronica with 2000s indie rock, especially with the presence of uplifting background synth sounds on Let's Get Away.
Musically, it's what some might call simple and refined. It's a well written album, the band obviously have bags of songwriting talent and know what to include and what to cut in order to make the structure of the music work for the genre really well.
The listener gets the impression that no instrument has been wasted and every note is exactly what the song needed. There is no sense that The Electric Modern have gone over-the-top and put everything they're capable of into every song, but only included what each song needs to sound good. As a result, everything sounds well put together, and sounds quite light and airy. The effects on the guitars and the presence of prominent bass guitar sounds come together to create something that's almost halfway between indie-rock and electronic-rock.
It's an excellent sounding, fresh take on the indie genre. The bass solo on Too Much to Ignore is also an excellent and surprising feature, it was wholly unexpected, and it added an excellent twist to the song and deserves a special mention.
Motives won't be to everyone's tastes, though. It can sound a little like pop music in some places, which won't appeal to everyone, but will certainly appeal to others. This reviewer is nitpicking for the sake of putting forward a balanced review, though, and it's really not an issue.
Overall, it's a new and refreshing sound to come out of the South of England, a county that's making a name for itself for producing some high profile bands, such as Enter Shikari and The Subways. The Electric Modern is a fitting name for such an electronic sounding, modern take on the indie genre that was starting to get quite tired. Armed with more music like this, The Electric Modern should be set to be the name on everyone's lips in the not-too-distant future. Keep an eye on these guys. 8/10.
Find out more about The Electric Modern here: www.theelectricmodern.com
Director: James McTeigue
Year: 2012
Genre: Action/Horror
In a nutshell: Grisly gothic mystery, with some great acting and ridiculous-yet-satisfying story. 

The idea of 'this film is real' recently seems to be a common theme emitting from Hollywood. The idea that a film's events "have happened" (The Blair Witch Project) or "could happen" (Chronicle) or even films such asCloverfield that purposely portray a sort of "is-real-life-but-at-the-same-time-blatantly-fiction" mentality are common in cinema these days. New gothic horror-thriller film The Raven is centered around the idea of the final few days of the life of famous writer Edgar Allan Poe, telling a story designed to look historically factual but realistically ridiculous.
Edgar Allan Poe (John Cusack) is introduced as a struggling writer, a not-so-recovering alcoholic and madly in love with girlfriend Emily (Alice Eve), who's protective and harsh father Colonel Hamilton (Brendan Gleeson) refuses to acknowledge their relationship. Poe suddenly finds himself caught up in the investigation into a series of gruesome murders that seem to recreate events that Poe himself wrote in his stories. Detective Fields (Luke Evans) enlists Poe's help to explain and capture the perpetrator, who, it is revealed as the murders increasingly become more personal for Poe, is bent upon taunting him into his own destruction.
Cusack is spectacular as Edgar Allan Poe, combining a sense of actually being physically hurt by the abuse of his stories that the killer is committing, and also maintaining a steady sense of dry wit throughout his performance despite the hardship, which portrays the idea of a writer in complete anguish perfectly. It is a welcome element of realism within a film with such an unlikely and odd plot. There is palpable tension between Hamilton and Poe over the issue of Poe's love for his daughter, oddly-yet-realistically resolved by her abduction and Poe's subsequent determination to free her.
The biggest issue with this film is the claim made by the filmmakers that the final few days of Poe's life are shrouded in mystery and are unexplained, and yet the film itself proceeds to tell a story of events that are extremely public, in fact plastered all over the newspapers. The filmmakers slightly cover this up by claiming that Poe writes the events that are actually happening as a work of fiction, although they are indeed designed to come true, however it is unrealistic to assume that fictional stories would end up as front-page material over the top of actual news. This is probably the biggest plot-hole, but doesn't actually detract too from the performance, as long as it is watched with the mentality of watching a good film, rather than a realistic one.
The ending could quite easily have been better, however the audience know how the story is going to end from the opening scene, so it's more a story of how it happened, rather than what is going to happen. Overall, a good movie to watch once, but probably not multiple times. 7/10.
Read this review on my Tumblr blog here: http://soundsofasamfordraving.tumblr.com/post/19124383717/review-the-raven
Recent Posts
Archives
Categories
Tags
Latest Tweets
Sam's Tweets